The day before the soapbox derby, we loaded the chicken onto an F150 to get it to Kitsilano.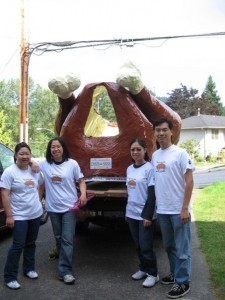 Here we are driving down Lougheed Highway with a giant chicken in the back.  Nothing out of the ordinary.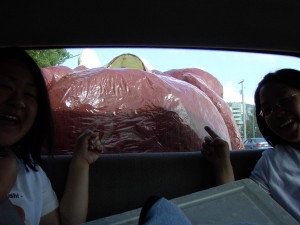 Drive slowly, Leonard!  The drumsticks are jiggling!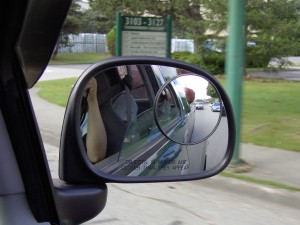 Deviled Egg, Knife, Fork & Chicken chill before the gates open to the public.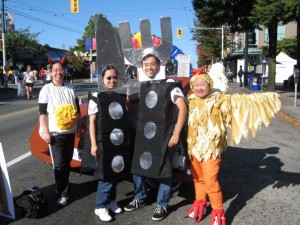 The chicken soapbox tries to relax before the big race (and subsequent crash).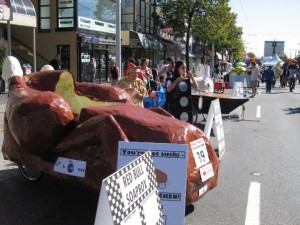 What would a big event be without Hot Cops!  (It's an Arrested Development joke – just watch the DVDs already!)  Our team traded stickers with this policeofficer.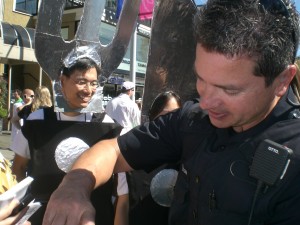 This photo of Jensen Ackles is here to make me happy.  Unfortunately, I didn't get to meet him. He was there to participate in a celebrity charity race with Jared Padalecki, both from the tv show Supernatural.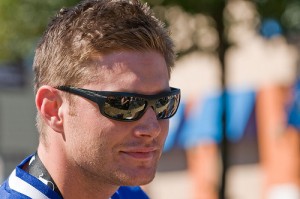 Photo courtesy of Ianiv & Arieanna.
Tags: chicken soapbox photos, red bull soapbox vancouver 2008